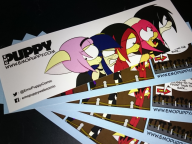 Hey there! Check out what arrived at Emo Puppy HQ today. A whole load of bookmarks!
Stay tuned to find out how you can get your paws on one of these!
As much as I'd like it to my life doesn't revolve around making comics about dogs. I do other stuff too, like reading, so I thought that since the website redesign has a blog function I may as well use it to post stuff like a weekly/bi-weekly/monthly (or whenever I feel like it) book review. Books being a collective term for whatever novel, comic, trade paperback or manga I may be reading.
So stay tuned for my first book review coming this weekend!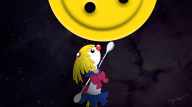 If you're a regular reader of Emo Puppy you'll no doubt have seen that I like to throw in old kids TV show characters in every once in a while. One such character is Mr Spoon from the TV show Button Moon which was about a family of junk people who flew their rocket up to Button Moon up there in the blanket sky.
What would happen if you took one of the characters from that show, the daughter Tina Teaspoon, and mixed her with the popular anime series Sailor Moon? The answer is Sailor Button Moon, of course! Here's a quick picture I knocked up. Keep an eye out for more old kids shows mixed with other things. Neon Genesis Parsleythelion? No, that's just stupid…
Emo Puppy has been upgraded to a new website and is now better than ever! We've got comment sections, a blog, Twitter feeds, subliminal messages hidden in the image titles, everything!
Have a look around and check out the new site. It may look similar but behind the scenes it's much better.
Fun times!
Welcome to Emo Puppy, the webcomic that's gone to the dogs! Enjoy a brand new strip every Thursday and follow the lives of Chester, Preston, Amy, Donna and Yelena as they make their way through life.
Stay up to date with all the latest announcements by following Emo Puppy on Twitter or by liking Emo Puppy on Facebook.
Want to know more about Emo Puppy? Click here.